Stay Connected from anywhere with the 3CX Apps
The 3CX apps for iOS, Android, Mac and Windows are included with the 3CX Phone System at no extra cost. They are native apps which means they work seamlessly with the OS you choose to use them on. Your teams can work from anywhere and never miss a call or message no matter where they are. All communication and data that is passed through the apps are end-to-end encrypted and they can easily be configured by simply scanning a QR code.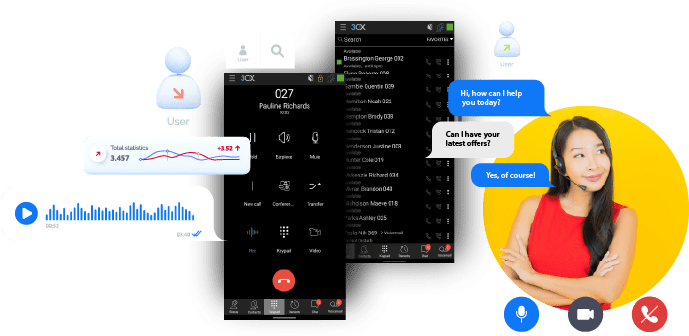 Remote Teams to Boost Productivity
Your teams cannot be tied to their office. Allow them to stay connected with colleagues and customers anywhere with the 3CX Apps.
Apps for iOS, Android, Mac & Windows
Everyone can take their office extension with them and manage calls, transfer calls as well as attend call conferences whilst on-the-go.
Video, Status, Chat & More
Advanced features such as video conferencing, business SMS, website live chat, instant chat, status and Facebook integration are included at no extra cost.